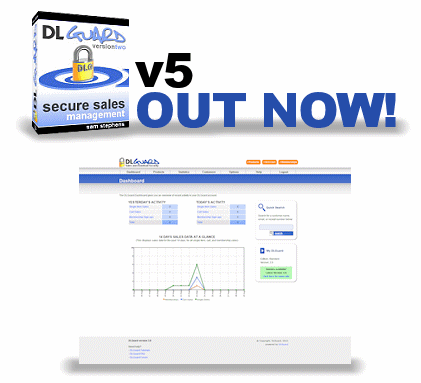 New Features in DLGuard v5.0
DLGuard v5.0 is now available! A lot of new features have been added, and are listed below in their various sections:
DLGuard Admin Interface:



Added a Dashboard in DLGuard that displays when first logging in and lists recent sales, a graph of previous 14 days of sales (broken down by single item sales, cart sales, membership sales), and has quick search feature for looking up customer details



Updated DLGuard Admin interface to larger screen and larger text



Single item products now listed under the "Products" menu (instead of the old Home link)



Help menu lists "Creating Products Guide" link rather than listing all payment processors in drop down menu (we were running out of room in the menu)

Templates:



New modern templates for DLGuard Cart system (see "DLGuard Cart" section for more details



Updated download page templates for single item sales, cart sales, and memberships



Updated default membership login template to look more modern



Added download link templates that allows you to modify the download links on the download page for single item and cart sales



Added an image for "Download" links for better viewing and easier customisation

New Payment Processors:



CCBill (specializing in high risk products)



CommerseGate



DigiResults



FastSpring



JVZoo



MultiSafePay (for European vendors - includes iDeal)



Paypal Digital Goods (for downloadable products only - displays payments and download link in lightbox hovering over sales page)



Plimus



RevenueWire/SafeCart



SWReg



WSO Pro (Warrior Plus)

Updated Payment Processors:

2Checkout: Uses IPN system for marking refunds, allows recurring billing from Edit Product page, new checkout language support



1Shoppingcart: now supports 1SC upsells, allows non-DLGuard products to be purchased in same 1SC cart



Clickbank: full 1 Click Upsell integration, ability to add custom variables to sales link such as cbskin, handled all CB notification versions



Mal's E-Com: now allows tax and coupon discounts set in Mal's



Alertpay: changed named to Payza, allows recurring payments from Edit Product page

Single Item Sales:

Banned customer emails are blocked from Free product signups



Paypal Split Payments now detect refunded sales



New Paypal currencies added



Worldpay sales link updated to their new URL


Total revamp of Cart system including layout, wider pages, new button images, and back-end programming



New templates for DLGuard Cart



Ability to tweak DLG Cart colours, text, logo from the Admin area (Cart Settings page > Customise Cart button)



Ability to automatically add Facebook and Twitter icons and links (from Customise Cart page)



Added a "Recommended Product" feature to recommend related and/or popular products to your customers



Add Product feature now pops up a lightbox after you click on the "Add" link when browsing your cart



Added "Best Sellers" option to front page of DLGuard Cart (accessible via cart/home_template.php template page)



Coupons can be used for cart wide discounts, including sliding scale discounts based on cart total price



Single Item coupons can be used in DLGuard Cart to give discounts to just that particular product



Paypal sales are now itemized by product in Paypal sale and Paypal receipt email



Customer ban list now works with Cart sales



Customer IP address added to database on download page if not already listed



Customer ban lists work for Paypal Cart integrations



Paypal Cart "Add To Cart" buttons changed for better server compatibility



Cart contents are now listed on Export and Customer Search pages (not just download attempts)



Added %%productnumber%% tag to product display template (for developers)



Redirect and display checkout variables added to "Add To Cart" links for developers who are using DLG Cart "add" links on their own pages



Cart Admin area now uses alternate shading for the product list for easier viewing



Updated help documentation

Memberships:



Added a "Remember Me" option so your members can stay logged in



Allows people who are members of multiple groups to use any login details to access any group (turn this option on from Config page)



Allows people who are members of multiple groups to see download links from all groups they have access to in the one members area (turn this option on from Config page)



Updated help documentation

Developers:



Custom Script feature now notifies on sales, refunds, cancellations, pending (can revert to old version for sales notifications only on the Config screen)



Query can now use a "listsale" action that will list all sales receipts for an email address



"Add Customer" query now accepts pending=true variable to add a customer but mark them as pending

Miscellaneous:



Custom download page templates feature for single item products can now use a full URL (for doing things such as creating a download page from a Wordpress page)



Customer shipping address and phone numbers added to DLGuard database for payment processors that supply these details



Support for SSL certificates (ie. if you're using https://) - this can be turned on from your Config page in DLGuard.



Ability to force a download limit during download, for programs such as download accelerators (not usually recommended - can be turned on from Config page)



Exporting customers to CSV will now include shipping address details and phone number if available



Added ability to turn on mail() -f and -r flags for Aweber email signups if your server requires them



Spaces can now be used in download filenames



A loading image can be displayed for Paypal single item sales (because of how long Paypal can take to load their payment pages) by adding &loadingimage=name.gif (where the filename is the name of a file in dlg/images/ folder) to the end of the Paypal single item sales link



Customer Search page in DLG Admin now lists a member's cancellation date if they haven't yet expired



DLGuard Admin "Forgot Password" feature now allows you to specify your support email address for email reminders in case you've forgotten your username as well



Help documents updated for various payment processors



Added more system messages to Language file